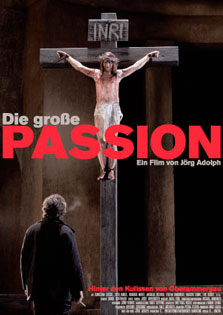 Documentary by Jörg Adolph, Germany 2012
Running Time: 144 Min. | Language: German/English
Subtitles: English | Territories: World
Stream: MP4 HD (720) | Price: 3,90 Euro
The most famous village in the world plays "the greatest story ever told" – and for the first time a filmmaker is really allowed to have a look backstage at the Passion Play of Oberammergau.
German Documentary Awars 2013
You can watch this film in full length here. For this you will need a Paypal account. If you click on the green button you will be directly connected to Paypal. You will return to this site afterwards to confirm the purchase. You now have 72 hours to watch the film. After that your access will expire. In order to use this service you will need to allow cookies in your browser and you should not delete them until you have finished watching the films. Please note, if your browser is set to "Erase cookies after exiting the session," you will need to deactivate this. Keep your browser and your player updated!
Watch the trailer:
DocCollection 8
THE GREAT PASSION
Documentary by Jörg Adolph, 144 Min., Germany 2012
From the preparations in 2008 until the last performance in the autumn of 2010, the film puts Christian Stückl at its centre, the passionate and obsessed theatre-maker and director of the play who is facing century old traditions and the challenges of reality in a small contemporary Bavarian village.
THE GREAT PASSION shows what goes on behind the curtains of this great spectacle that oscillates ­between art and commercialism, world and village, God and ­humans.
More:
Buy DVD